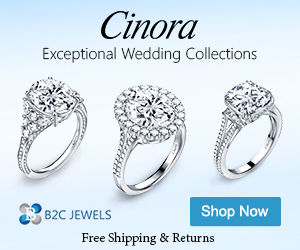 15% off Sitewide.
Get a pearl studs free. Exclusions Apply*. Discount Not Valid on Loose Diamonds and Cinora products.

Use code: MYVALENTINE
Valid from 21-Jan-2019 to 14-Feb-2019.
Available From:


B2C Jewels is a fast-growing online store of certified loose diamonds, fine diamond jewelry and trendy products in gold, pearl & gemstone. 30 years in the diamond industry helps offer the best services like free shipping, 30-day returns, exciting contests and huge discounts guarantee maximum customer come-back. Internationally Shipping!